SCOM Talk Series #46
On 9 February 2023, the School of Communication hosted the SCOM Talk Series #46 with Ms. Onie Chu, Executive Director of HK4As, to share her memories of various aspects of the advertising profession. She also pointed out that the potential and challenges the advertising industry is facing in the current era, as well as how she got started in the business.
During the sharing session, Ms. Chu disclosed that her first degree is not in journalism but she went into the advertising field because she enjoyed it and found fulfillment there. She revealed that the daily interactions with people required by the advertising profession offered her a wealth of experience and boosted her self-confidence. She said that the advertising sector is currently understaffed and that many young people are even reluctant to work in the field. She wants everyone to realize how much the business still values talent. Students can join the sector for gaining experience without gifted talents as long as they are passionate and willing to put in the effort. She chuckled and mentioned that she was often the last one to leave the office, but she did not force employees to work overtime. She said that she likes to stay in the newly designed office and looks for inspiration. She said that she just likes the ambience of the office.
Ms. Chu also mentioned that she and her coworkers annually assist with the Kam Fan Awards' preparations. In addition to the industry category, this prize also includes a student category that has just been established to provide students who are interested in the profession a taste of advertising design. Students can share ideas and learn from one another at the same time. She emphasized that every year that she is inspired by the ingenuity of both students and professionals. She also exhorts students to become involved. Ms. Chu also encouraged the students to be passionate and creative in order to succeed in the media industry.
Professor Scarlet Tso, Dean of School of Communication, presents a souvenir to Ms. Chu.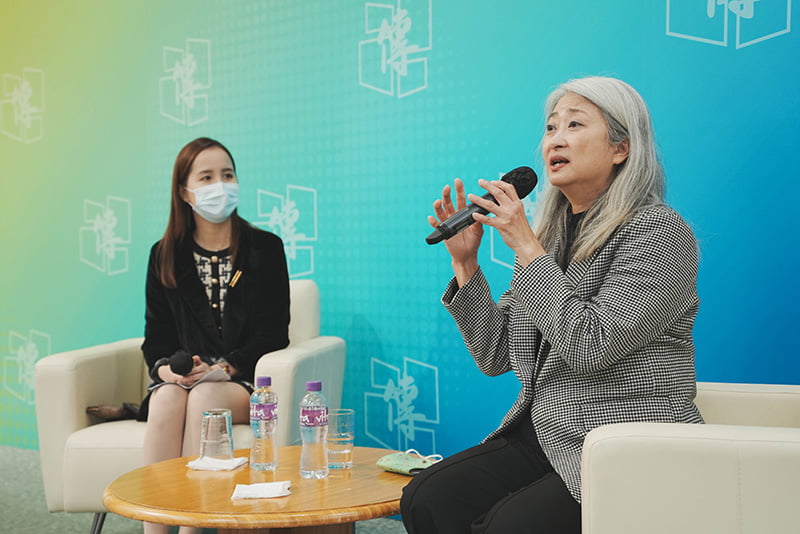 Dr. Wendy Chan, moderator of the talk, has a chit-chat session with Ms. Chu.
Ms. Chu shares the thought on how important creativity is.